Social Business Event 1st Edition
Final conference of the project:
"Promoting Social Business
in Secondary Schools of the Emilia Romagna Region"
Emilia Romagna Region,
Polyvalent Hall Guido Fanti- Viale Aldo Moro, 50,
4 giugno 2015
The first edition of the Social Business Event Bologna was held on Thursday, June 4, 2015 at the Guido Fanti Polyfunctional Hall of the Emilia Romagna Region and sponsored by the Emilia Romagna Region and the Regional School Office. On this occasion, the students who participated in the "Promoting Social Business" training course were challenged to strike ideas to solve one of the social problems identified in their community of reference and then publicly presented the social business projects they developed.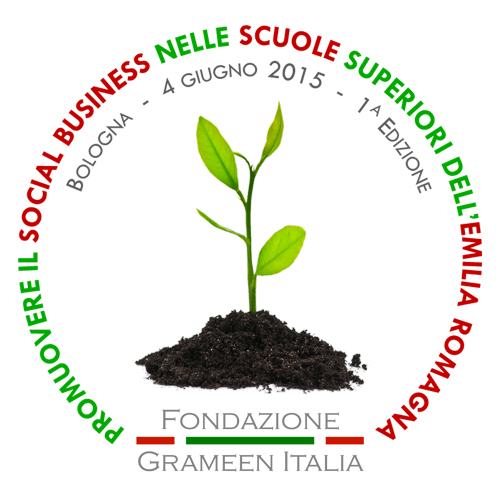 The best ideas were selected and awarded by a jury of experts based on criteria of creativity, originality, sustainability and impact potential on the social problems identified. The event was supported by local authorities whose representatives actively participated in the works. Deputy Mayor Silvia Giannini chaired the work, while Counsellor Patrizio Bianchi (Counsellor for Coordination of European Development Policies, School, Vocational Training, University, Research), after sharing some thoughts on the regional development lines of Social Business, awarded the most deserving projects, described below.
The first-place group, L-Mast, designed "Homelette": a "poor cuisine" restaurant that employs homeless people to provide its services and to manage its activity. It is a business that fulfils two social functions: on one hand, it gives the homeless an opportunity to challenge themselves in a work environment, while on the other it provides them with an accommodation.
The idea of the second-place group, La Rosa dei Venti, was to create a structure, the Amarcord Center, where autonomous elderly people can provide courses to pass on to younger people ancient community know-how and produce traditional food products.
Brain, the third-place group built an enterprise that deals with the reintegration of prisoners into social and work environments through training in prison. These training courses are designed to develop the technical skills necessary for the production and sale of "Biscotti Galeotti" (literally "Convict Cookies"), bakery and pastry products.
Program